Cruisers Decorated for Halloween is a Must-See at the Annual Nash Back at Ya Monster's Ball
Home » Blog » ArkansasHauntedHouses.com News and Updates
October 2, 2018 By Victor K.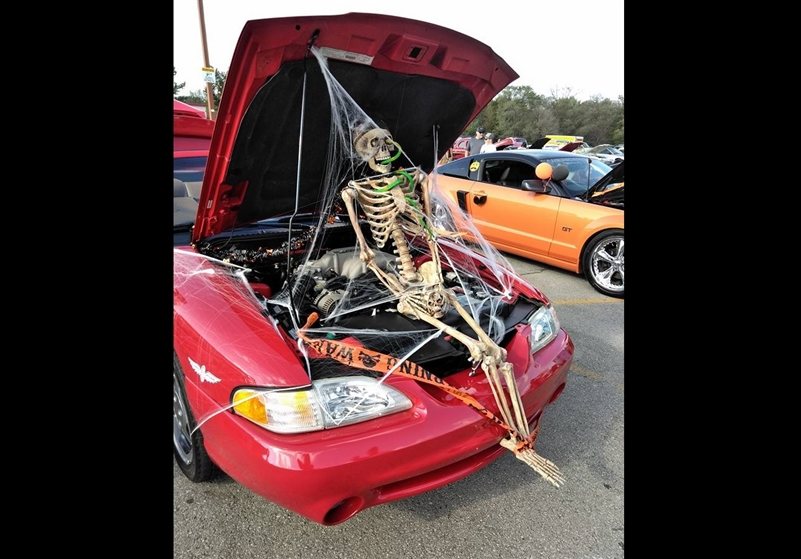 A skeleton hanging from the car isn't all that you'll see!
Photo by:
Nash Back at Ya Car Club
This year's Arkansas Monster Ball organized by Nash Back at Ya Car Club shall be held on the 13th of October from 3pm to 8pm at Frisco Station Mall, Rogers, AR. The event is an unusual car show that brings together two worlds, the motor world, and the Halloween season and spirit.
The uniqueness of the show is in its 'dos' and 'don'ts'. The show allows entrants with any type of car…as long as it is decorated in honor of the Halloween season! Participants are encouraged to go wild and be creative in their props and décor.
Skeletons and pumpkins are not scarce, and some go the extra mile of getting a fiery exhaust to complete their prop. In addition to dressing their cars, participants dress in Halloween costumes of their choice.
The show has traditions that do not fail to impress, with the best of these being the 'Trick or Trunk'. Many participants take this very seriously, bringing Halloween earlier by creating amazing pieces of weird and creepy on their trunks. This effort is not unnoticed as there are decoration competitions to recognize the most imaginative and most creepy.
In addition, silent auctions are held along with costume competitions where the participants themselves have got to impress. The Monster Ball is one event car lovers with Halloween magic should not miss!
Let us know in the comments below if you've attended the annual Monster's Ball before and what's the creepiest decorated cruiser you saw!